---
Antiques Of Republic
offers
Gone With The Wind Lamp
[]
Made in the U. S. of America
states the writing on
the oil adjustment wheel.

[]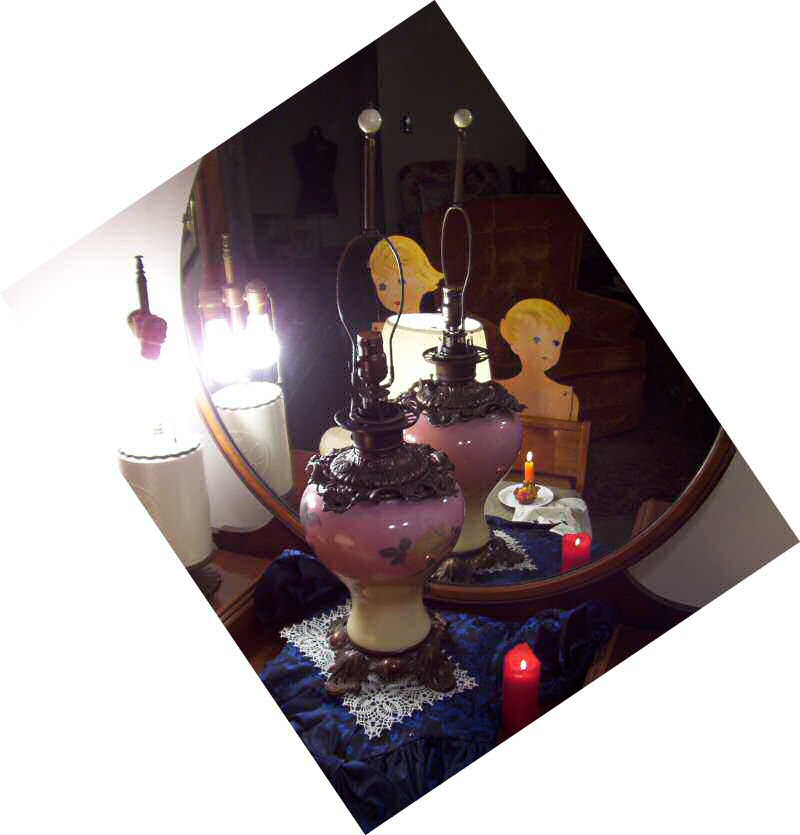 []
Source:

'A July 10th Auction in Mohawk, Michigan:
three generations of The Pellagrini Family.

[]


()
The Auctioneer claims it is a lamp from the 1800's.

The metal is ??.
Very beautiful.
Very graceful.

()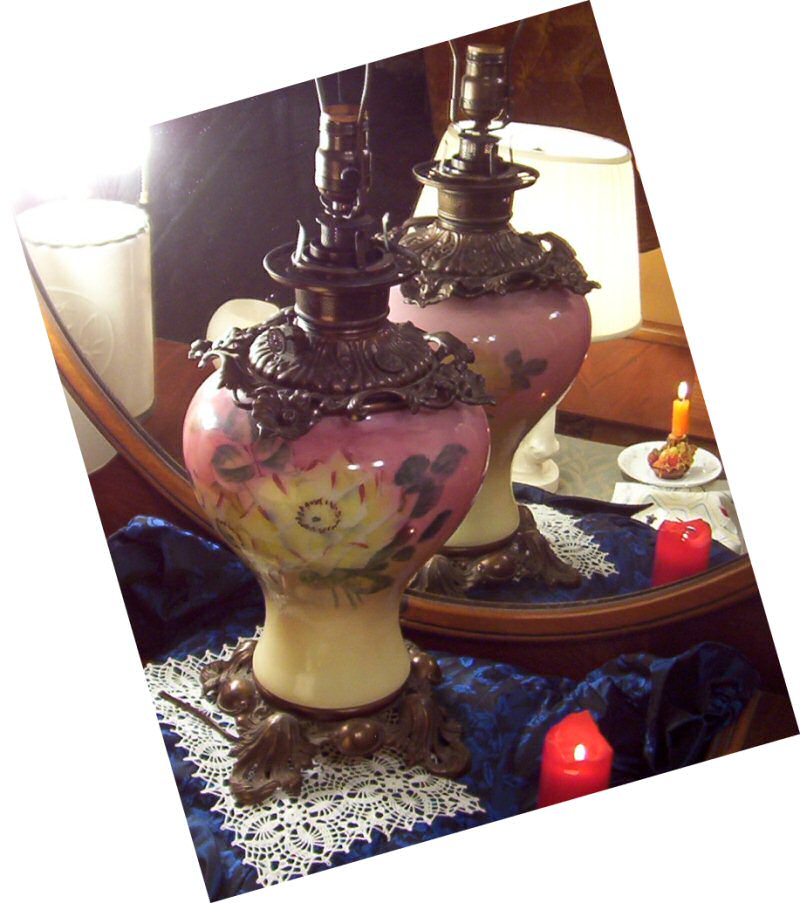 []
Height: 2 & 1/2" to the Little White Ball
Base: A bit over 7" X 7".
[]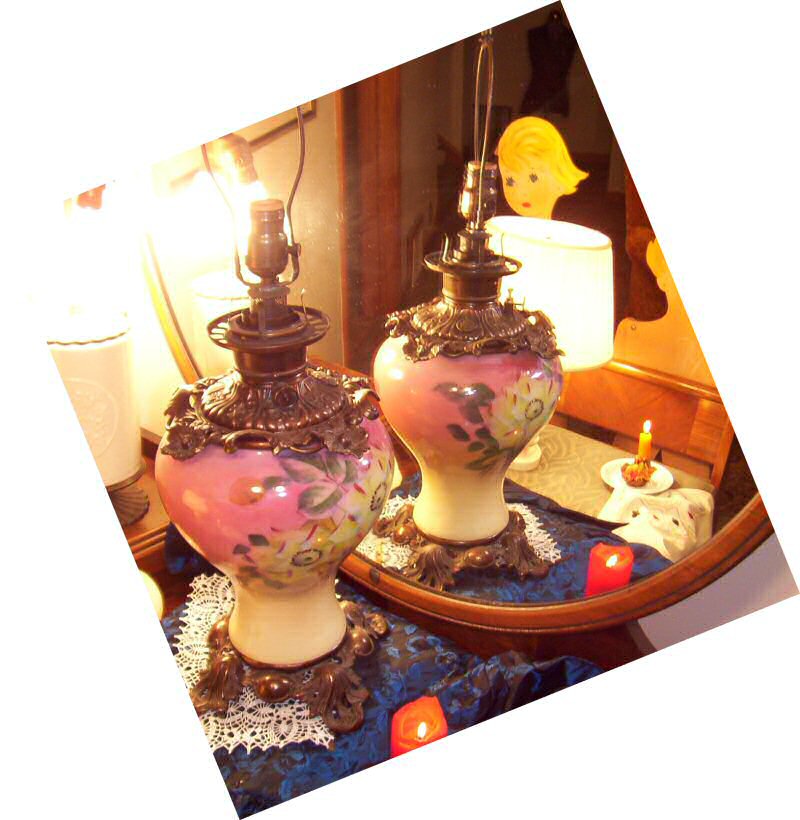 ()

[The Flash Smudged the Lighting.]

()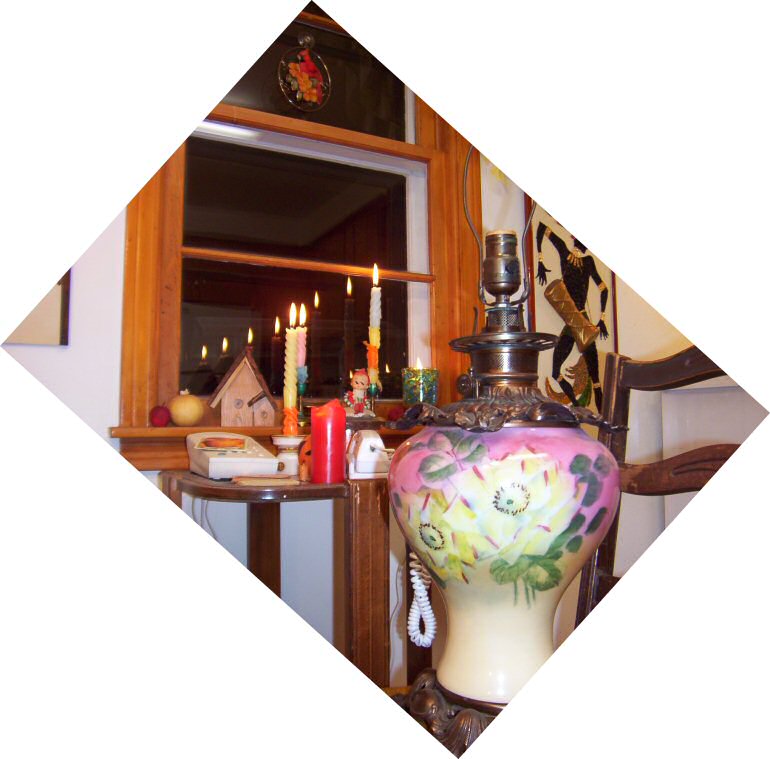 []


Condition:


'Originally an oil lamp, this lamp has been
converted to electricity.
The auctioneer claimed that it
could easily be switched back,
if so desired.'


'The cord has been snipped off.'


'
No fault or flaw has been otherwise noted.'

True-duly,

Just Businessman
--Ethics & Conditioning; A.O.R.

[]


Shipping:
The Lamp weighs 6 & 1/2 Pounds.
Ground Fed Ex
calculated from the
49855 Zip Code.
____
LATTICE VENEER
of
The Holywood Vines Press Corp
mentions that

'--the curious
might want to
check out
our About Me

!'
__

===


On HALLOWEEN of 1999,
The Holywood Vines Press Corp
provides exclusive coverage of

The One World Apocalypse Ball:
__

Scuttlebutt Rumour The Original Vine
Trent Overcoat War Correspondent
Natty Rumple
Once Everywhere ...the inside knack of drawing the WildCard.
Arbitrary Lancet Aged thirty; in love with Lattice from the first moment of her birth.
Married Miss Trite Overload
Beefcake Carved She has secrets.
Patina Decease Undercover Specialist
Lattice Veneer Scuttlebutt's only child; a seasoned seventeen as the millennium approaches.
Smooth as shadowed silk, velvet felt; Lattice's voice easily draws interviews.

====================
Copyright 1988 & 2002
The Eleven of Diamonds, Unlimited

()(