Souvenir China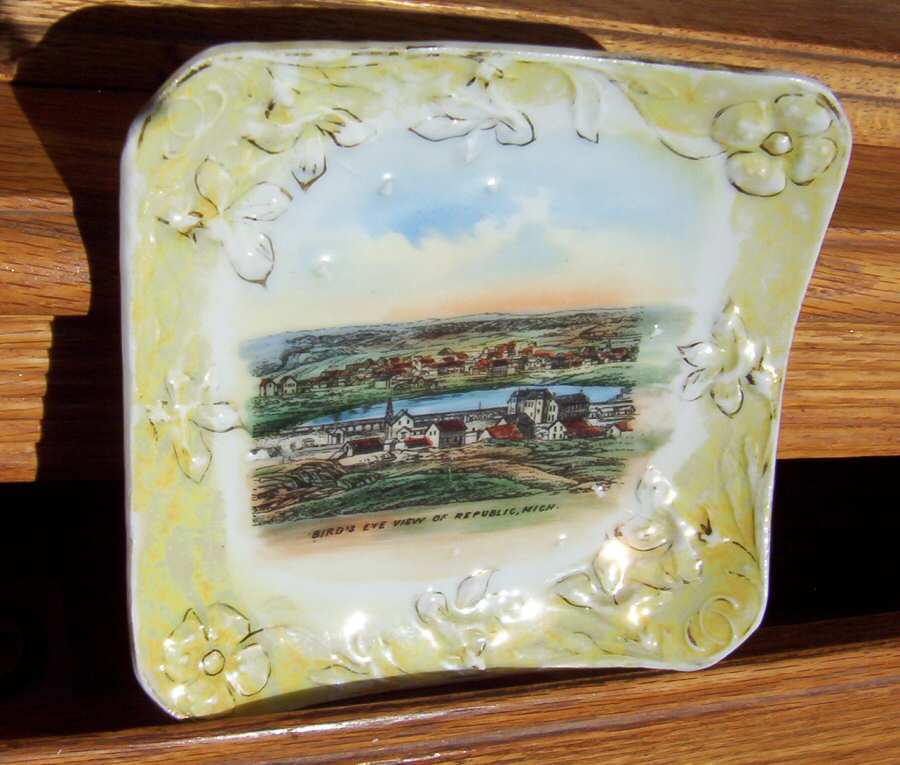 Republic: White porcelain 4' square pin dish with molded design of four
flowers on opposite corners and a single four-petaled blossom on the remaining corners with edge of dish and blossoms outlined in gold and shaded in pale
yellow; colored illustration identified as
Bird's Eye View of Republic, Mich
.
The lake is Mirror Lake, later renamed School Lake.
The view is taken from Park City,
before it became the pit,
which is now the lake that is The Republic Mine.
$300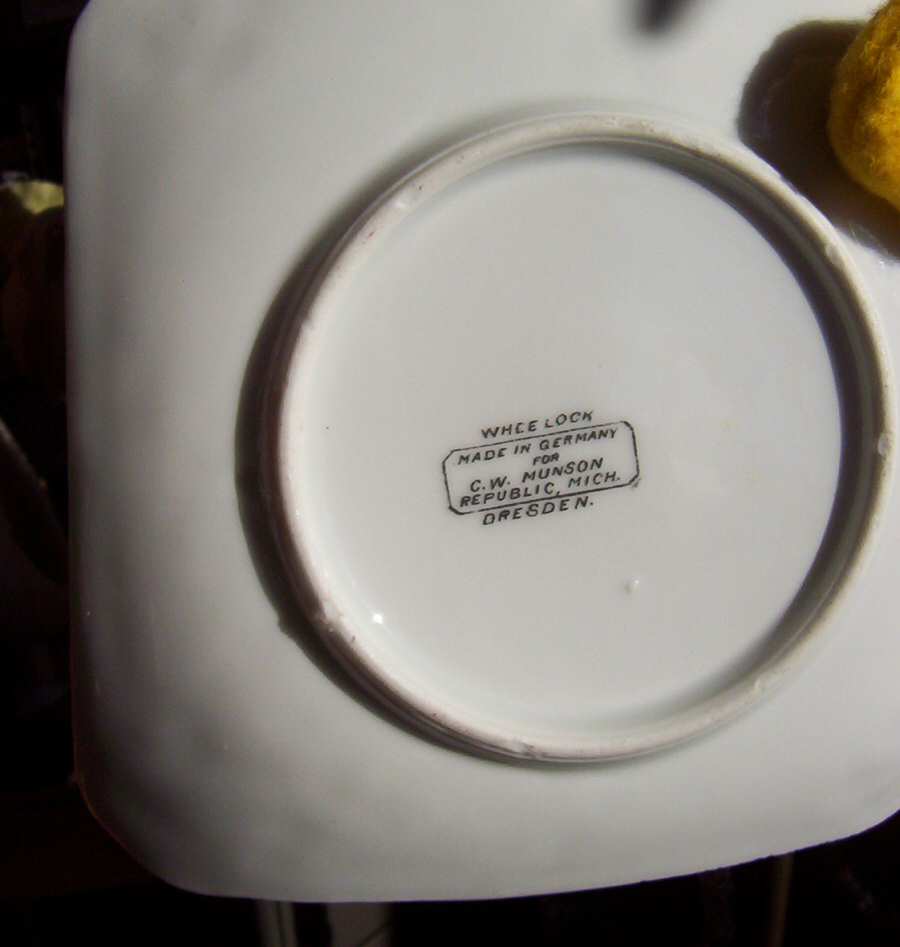 C. W. Munson was one of Republic's Founders;
our Park on the east bank of The Michigamme River is named for him.
This may be a one of a kind piece.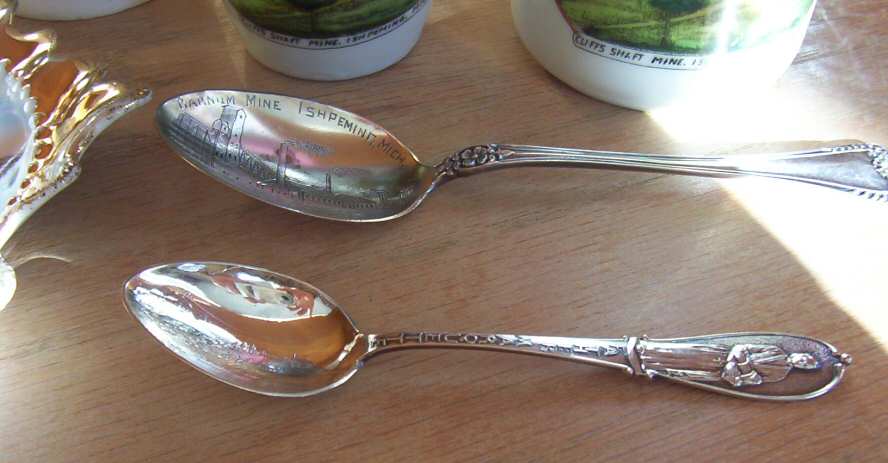 Ishpeming: Spoon 5 3/4" in length wit flared handle toped with
cherub head and pair of wings and a single four-petaled flower where the handle meets the bowl of the spoon; oval bowl about 2" long with engraved view identified as Barnam Mine, Ishpeming, Mich. above mine buildings and shaft;
some scrollwork on the back of the handle;
marked with S in center of circle and Sterling 54;
bowl is gold-washed.
$110

Marquette: Demitasse spoon 4 1/2" in length with figure of Father Marquette
and stippled background toward the top portion of the handle and the
embossed words

Father Marquette

on the lower portion of the handle;
bowl is embossed with view of lake, shore and buildings,
probably representing Marquette, Michigan, on Lake Superior,
without any inscription; plain back with the Howard Company's
three-part mark and the mark of Geo. N. Conklin, Marquette, Mich.
$110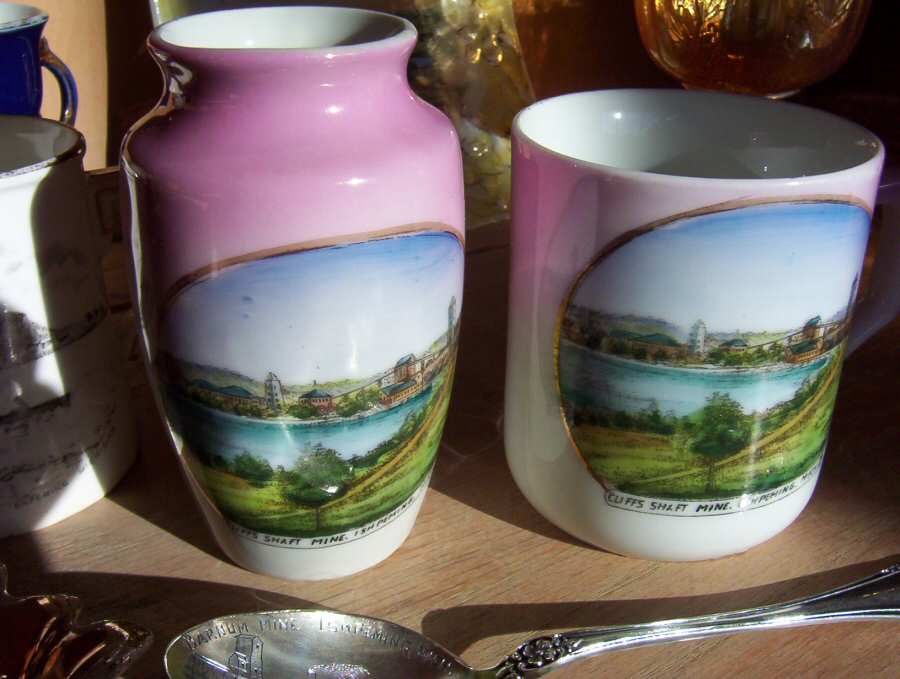 []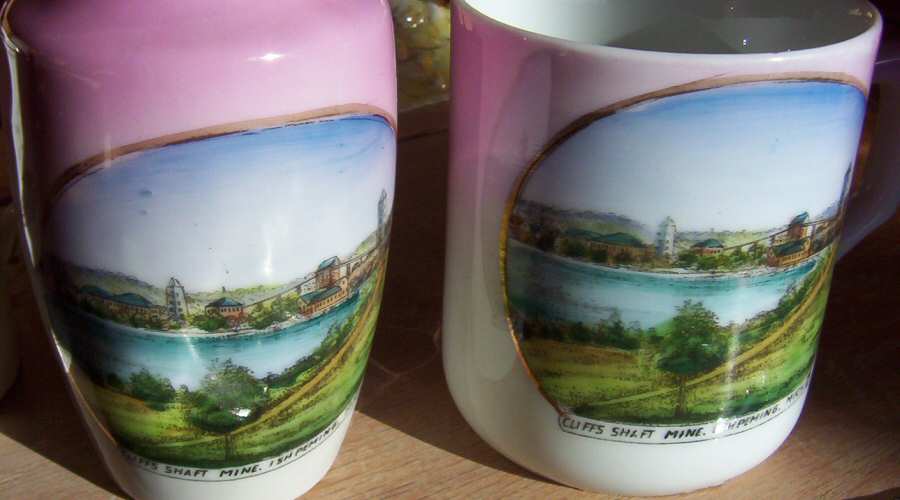 White porcelain vase 3 3/4" high and 2 1/4" in diameter;
pink luster shading to white from top to bottom with colored illustration
identified as Cliffs Shaft Mine, Ishpeming, Mich. in scroll.
Inscription on bottom:
The Jonroth Studios/Hand Painted Germany
$90

)()(

White porcelain cup 3" tall and 2 3/8" in diameter with pink luster
glaze shading top portion of cup and handle and colored illustration
identified as Cliffs Shaft Mine, Ishpeming, Mich.
Inscription on bottom:
Imported for Carrie Anderson Gift Shop, Ishpeming, Mich,
The Jonroth Studios, Handpainted Germany
$90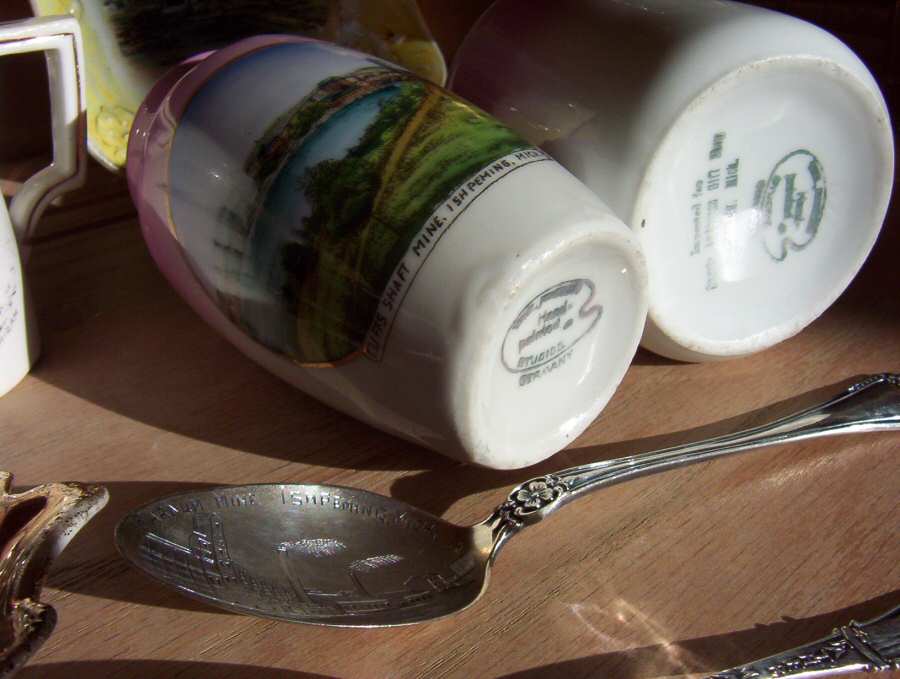 []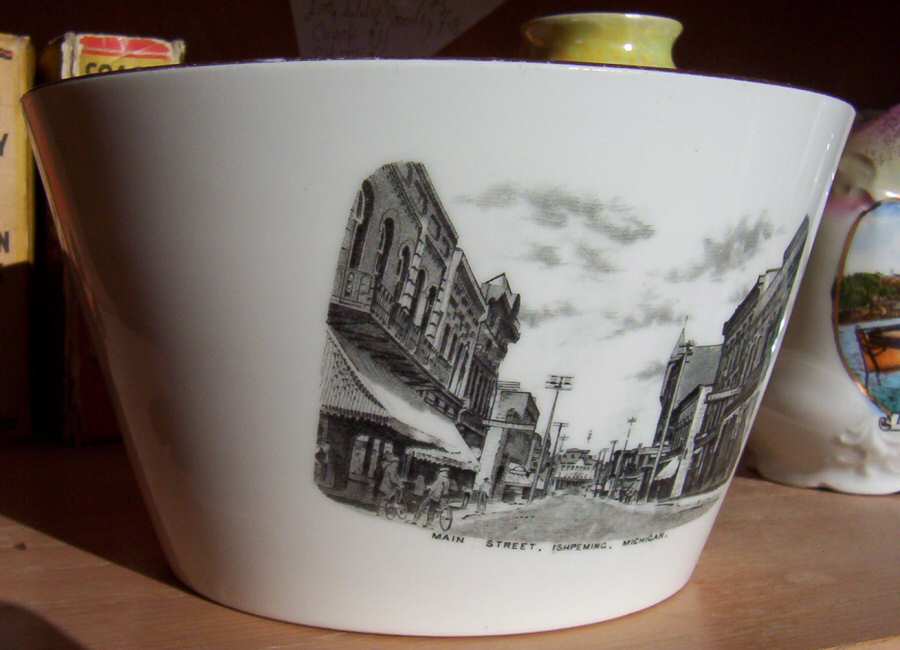 Ishpeming: White porcelain bowl 5 3/4" in diameter and 3 1/4" high with
gilded rim; black-and-white illustration on two sides identified as


Main Street, Ishpeming, Mich.


Inscription on bottom:


Made in England, Henry Harwood, Ishpeming, Mich.


$95
[]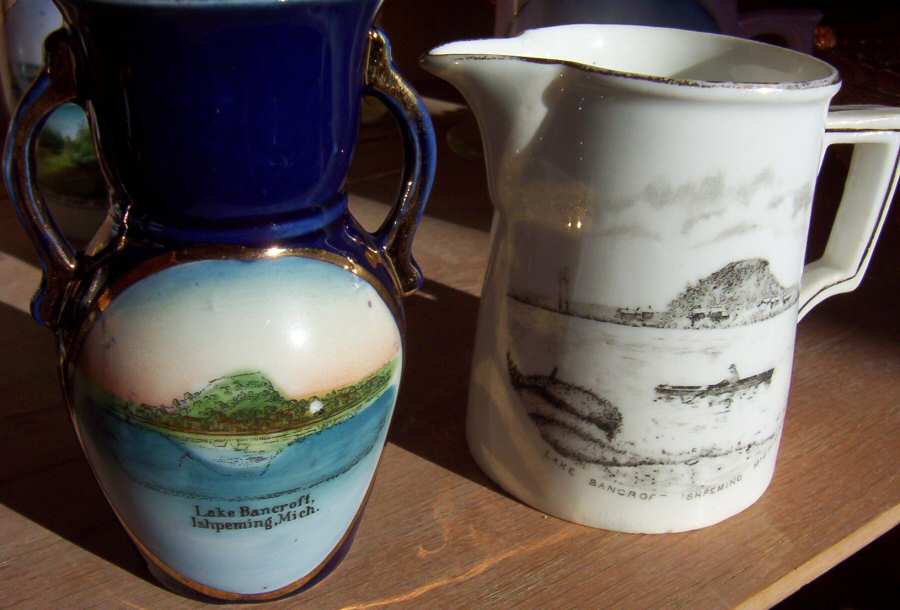 White porcelain vase 3 1/4" high with cobalt blue slip;
colored illustration identified as Lake Bancroft, Ishpeming, Mich.
$60
)(
White porcelain creamer...? made for Henry Harwood.
$50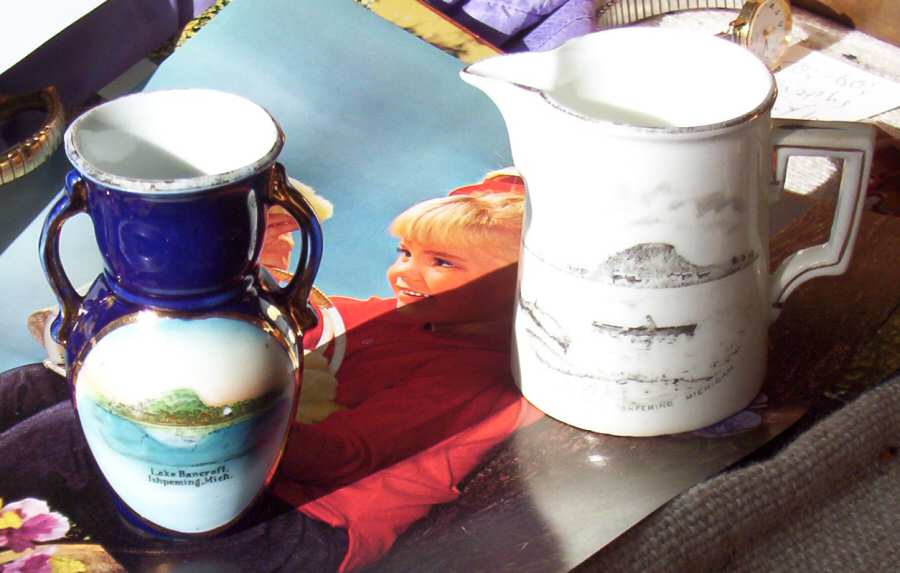 []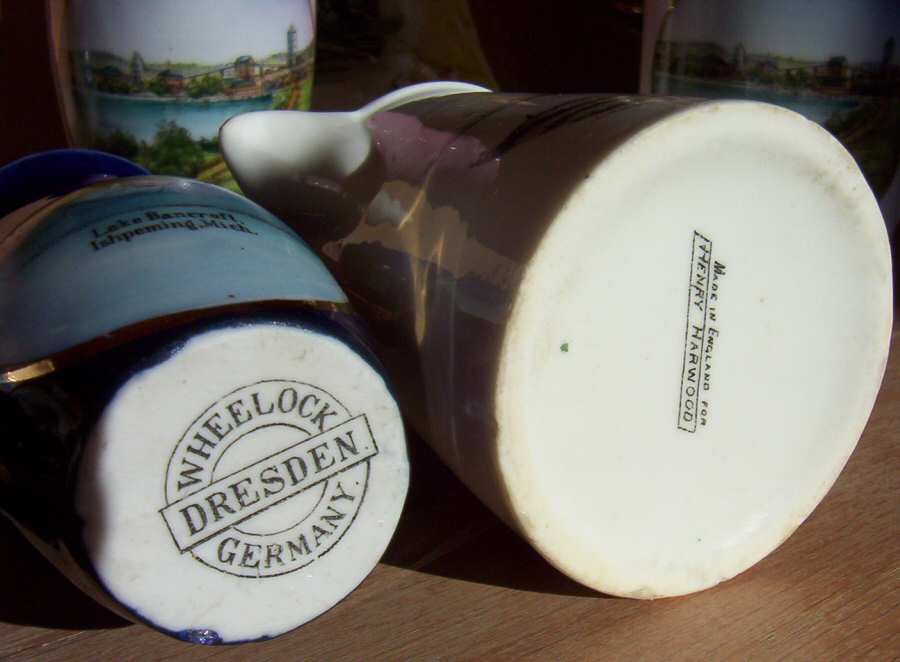 )(

Marquette: Life Saving Crew [Sold]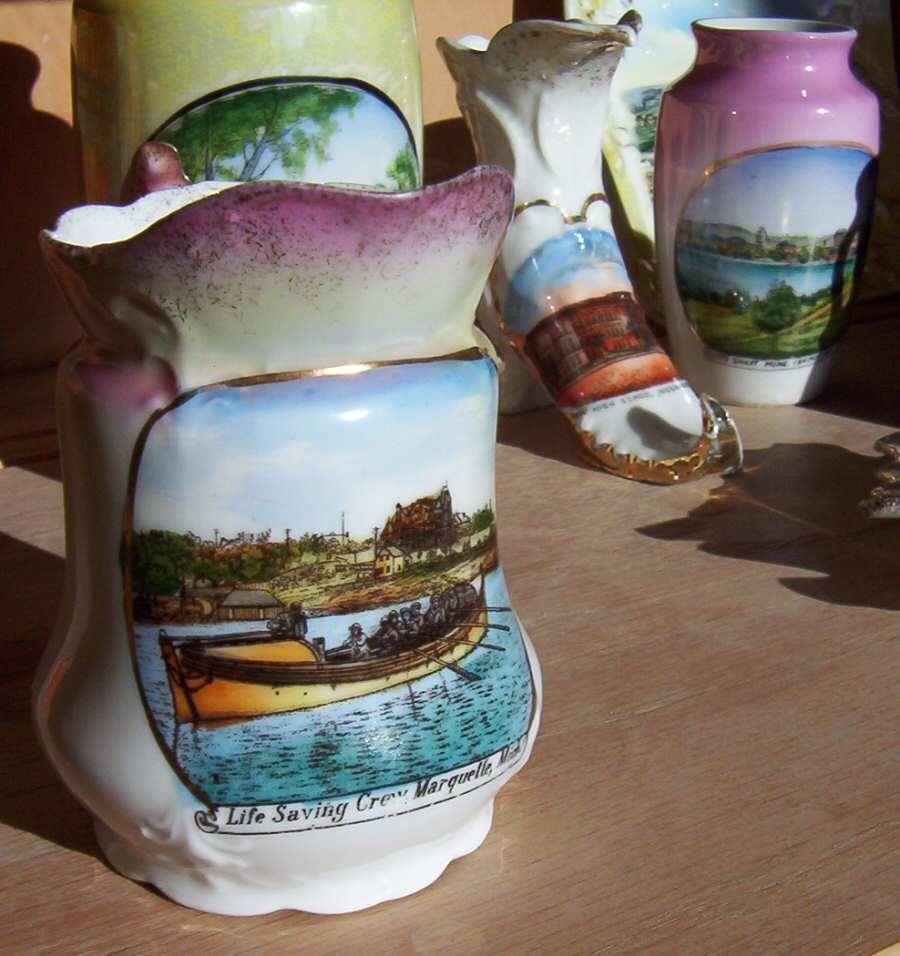 []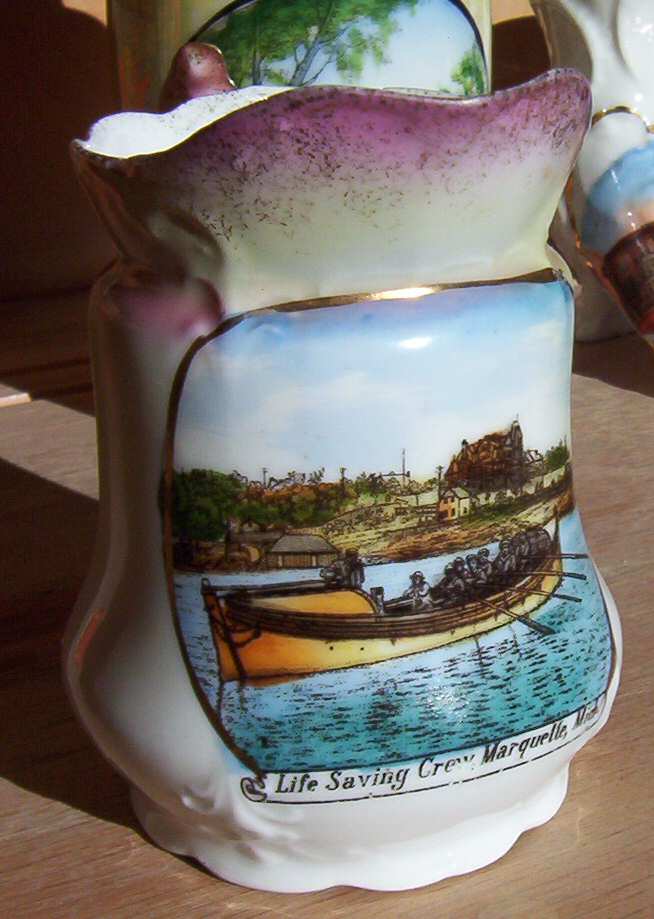 Ornate white porcelain pitcher 3 3/4" high with pink glaze around mouth
and top portion of handle and some green shading below with molded designs;
colored illustration identified as Life Saving Crew, Marquette, Mich.
Inscription on bottom: Made In Germany
$100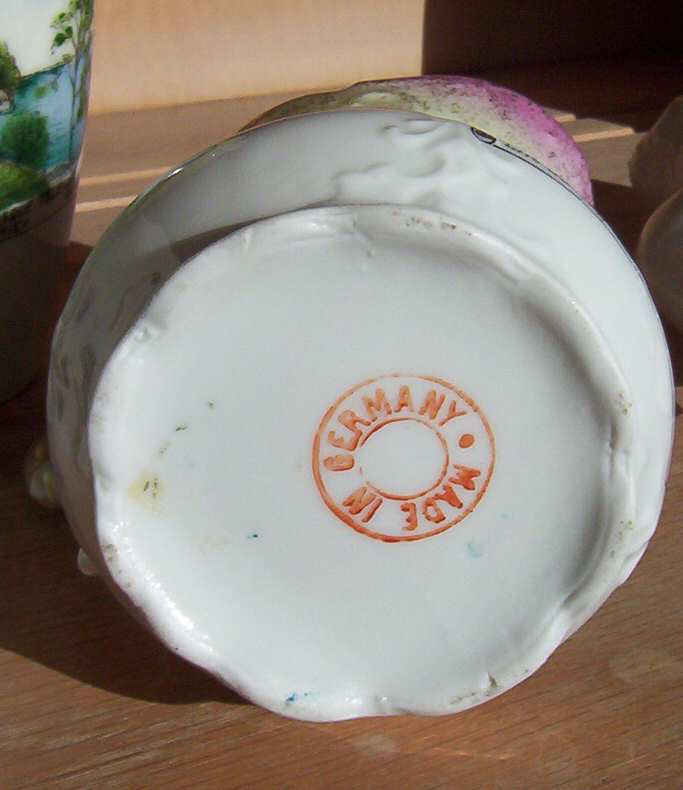 }{)(][}{

Lookout Point, Presque Isle: Marquette
White porcelain vase 5" high, gilding around oval illustration;
mottled yellow shading to white from top to bottom.
Inscription on bottom: The Jonroth studios Handpainted Germany
Painted and Imported for Willeson's News Depot, Marquette, Mich.
$55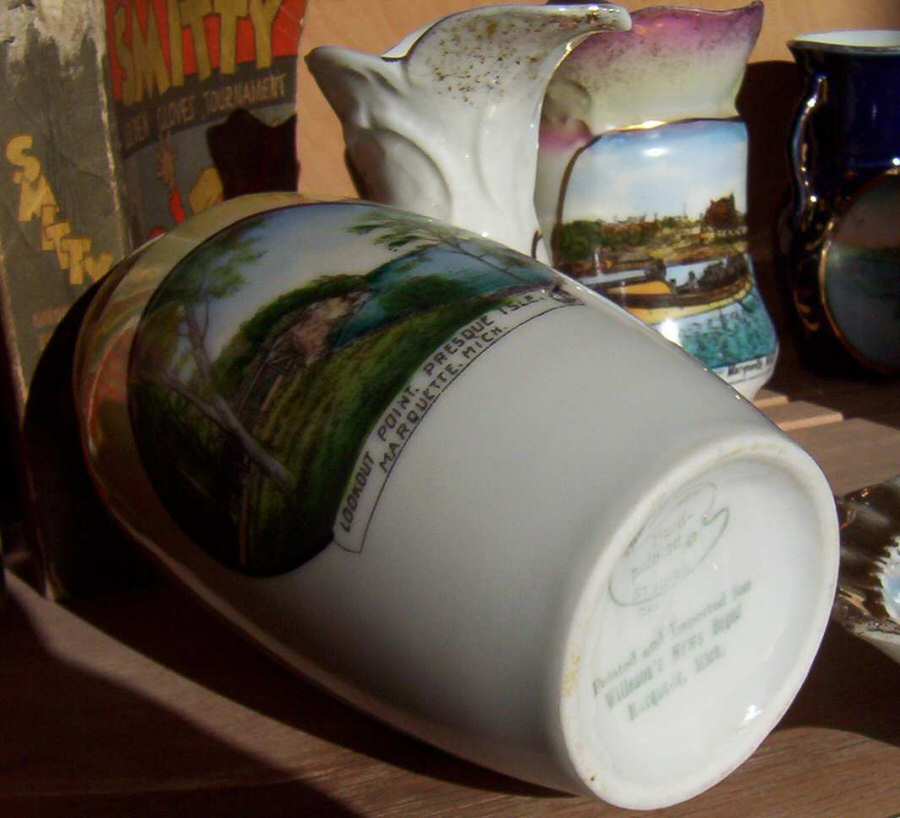 )(
Negaunee: New High School
White porcelain pin dish 4 3/8" long and 4 1/8" wide with ornate
molding and gilding around the entire "rim" of the dish with beaded outline around "bowl".
Inscription on bottom (hardly legible; information came from another piece)


Made in Bismark (?) for Phillip J. Hagen, Negaunee, Mich.


$55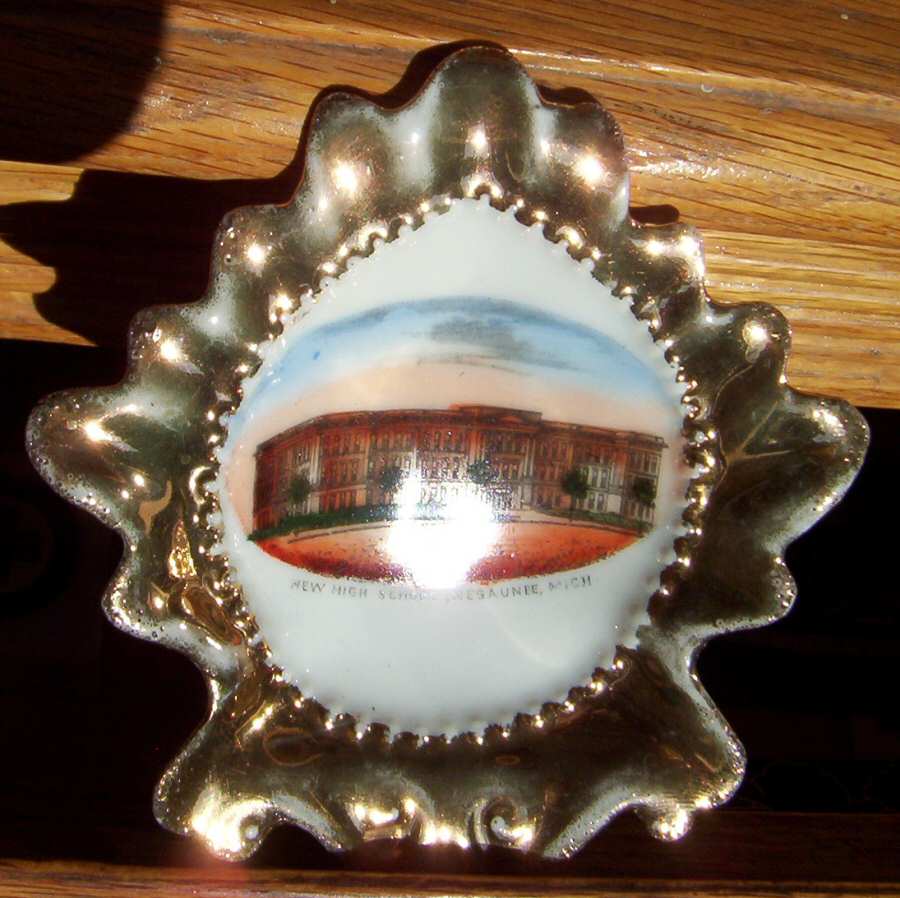 )(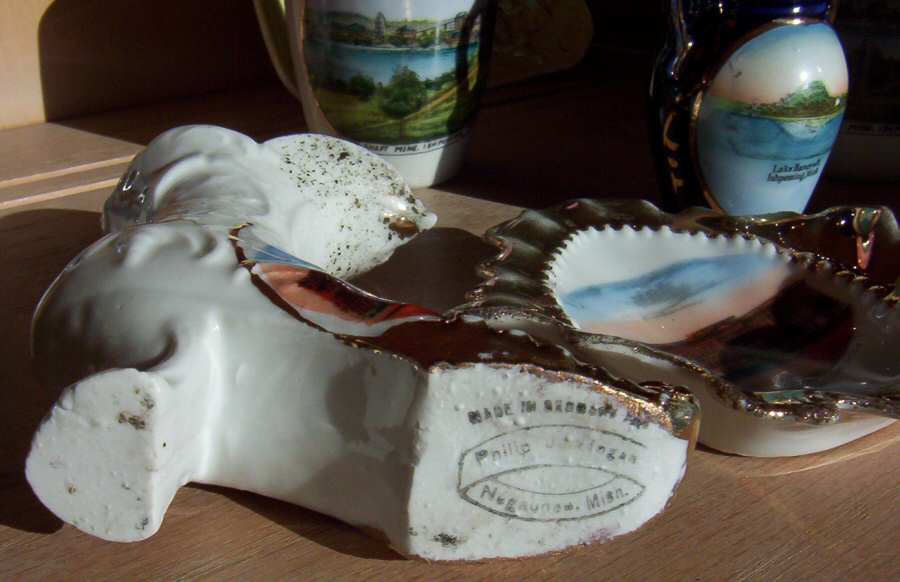 New High School (Companion Piece)
White porcelain lady's shoe 3 7/8" high and 3 3/4" long with ornate
molding and gilding.
$50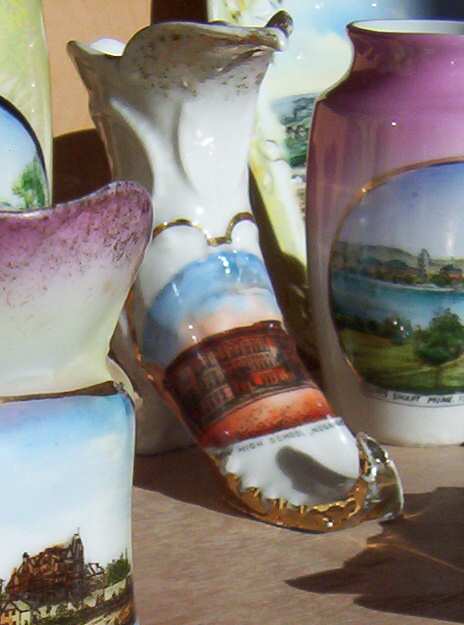 Too Home